Success Stories May 2016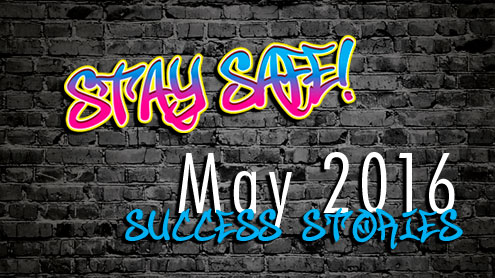 We are pleased to share with you our latest Success Story:
This edition is dedicated to our first ever Stay Safe Achievement Award Presentation.
Following an Anti-bullying workshop at Carclaze Primary School in St Austell, our head instructor Richard returned the following week to work with the same year group to hold our Stranger Awareness Workshop. During this visit a couple of Yr6 pupils mentioned to Richard that the previous workshop had inspired them to write an Anti-bullying song. They were keen to show him a snippet of their song.  Richard stayed behind after the workshop to witness their performance.  WOW!…….. I think it would be fair to say, both Richard and the class teacher were very impressed indeed!
Upon leaving that day, Richard spoke to head teacher Simon Pollard regarding the possibility of the pupils performing their song during a future assembly, and presenting them with an award for their outstanding efforts.
The 'Stay Safe! Achievement Award' was born.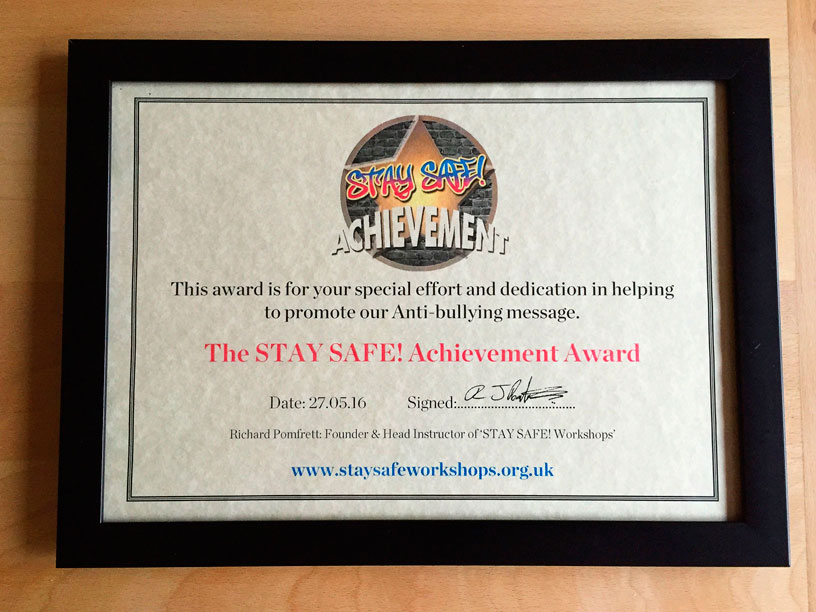 Mr Pollard spoke to the pupils and parents to see if this would be something they would be prepared to perform to the whole school?
They jumped at the chance, and continued to plan and perfect their performance. As well as writing an Anti-bullying song, they enlisted some help from a couple of younger pupils to help act out a scene to go along with the song.
A date was set……Our new awards were ready, the children were ready, the school was ready and the camera's were ready.
Richard was asked to attend one of the school's weekly celebration assemblies, to watch their performance and present our new Stay Safe Achievement Awards.
This time it was safe to say that the entire school that were well and truly blown away. They completely NAILED IT!
It was a pleasure to watch and an even greater pleasure to be able to present both Yr6 pupils with these awards. They both should be extremely proud of their hard work and effort, as I know we at Stay Safe Workshops and all the staff and pupils at Carclaze school certainly are.
WELL DONE GUYS!!!
We look forward to hopefully presenting more Awards to schools, teachers and pupils for helping spread our important Anti-Bullying / Child Safety message.
******Please click here to view this performance and presentation*******