Success Stories March 2016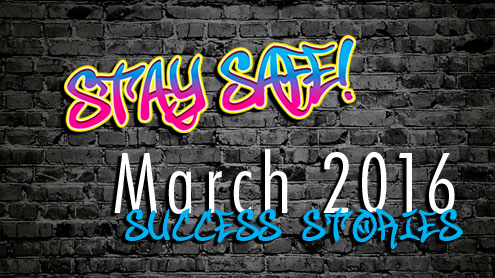 Following last months 1st edition of out new 'Success Stories' web series, we are excited to bring you the 2nd edition.
This is a story from last years 'Anti-Bullying week'. This time of year is obviously a huge and important time for us at Stay Safe Workshops, as it is for everyone involved with  promoting any Anti-bullying message.  This year 2015 'Anti-bullying Week' was an extra special one for us. Our Head instructor Richard was delighted to be invited to appear on Sky TV's ONLY show dedicated to Mental Health and Wellbeing topics, The Chrissy B Show!
This was obviously a Big Deal for us and especially for Richard. Even though talking in front of large groups of both children and adults is a part of Richard daily life, as talking in front of a camera while being broadcast to millions of people was a first for him I think its fair to say it was rather nerve racking!!
This weeks show was a special episode dedicated to 2015 Anti-bullying week and its theme "Making a Noise about Bullying". Richard was originally asked to appear in studio to discuss Anti-bullying week and the great work we do at 'Stay Safe!' to help educate children on and protect them from the many issues associated with bullying. Unfortunately due to already booked workshop commitments Richard was unable to attend the in studio filming but was very thankful that he could do the interview from our office via Skype.
Not knowing exactly what to expect Richard was a 'tad' nervous leading up to the filming slot. However being extremely confident and passionate about what we do was excited to share what we are about and talk about what we do at 'Stay Safe Workshops'.
The filming went great and it was a fantastic opportunity to share and spread our work, plus as an added bonus we even got our 2015 Anti-bullying week promo video played at the end of the show. All in all a fantastic experience and  we look forward to doing something like this in the future.
We would like to send a big 'THANK-YOU' to the Chrissy B show for inviting us to appear on their show, keep up the good work guys.
You can watch the whole programme by clicking on the image below.
Please enjoy and if you like it please feel free to share with your friends.
**********Please click image below to view the show**********